The Software Testing Academy project aims at establishing the first-of-this-kind academy for everyone who wishes to develop his/her career in Software Testing. To this end, the partnership will develop 3 training pathways: agile testing, automation testing and accessibility testing. They were selected based on the current and emerging labour market needs.
The first area on which we will focus within this training course is "Agile testing". The main objective for the students is to gain familiarity with the topic and the underlying mindset so they can be able to rely on their knowledge and take their first (advanced) steps in testing.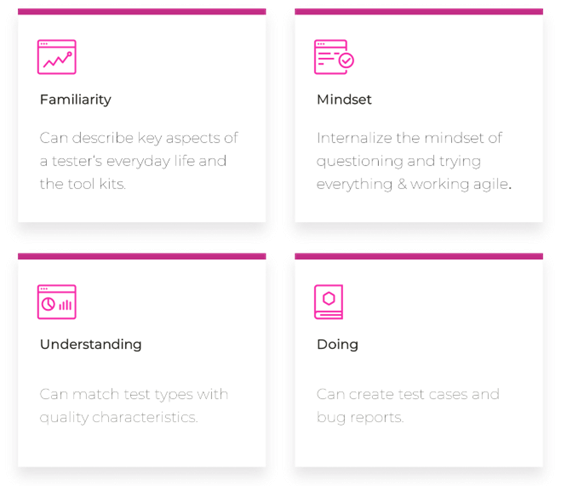 By this training, we hope to help students grow into their new role by:
Emphasizing the implicitness of testing and the intuitiveness of the procedure.
Getting familiar with wording & concept.
---
The Structure of the Agile Testing Course
You in the first place learn to act as an independent tester, that means testing on your own (Bubble "Me"). In second place, you will learn how to test within your close environment (Bubble "My Environment"). There are many exciting things to discover there on your own!
As part of Bubble "Me", you will learn about some concepts around testing that you use every day, but you don't even know that this is testing. For example, when you learn to use your mobile phone often you can think – What happens if I press this button or if I do this action? This is testing but you possibly were not aware of it! So, in the first bubble, you will learn the basic terms of testing and we will help you to understand that testing is present in our daily life, even if you don't see it!
After this bubble, you will advance to the next level, the Bubble "My Environment". As you have discovered that all of us are testers, you will start to see the things around you with the mindset of a beginner tester, so you will start trying to test things that you didn't test before, or you will start to see the apps on your mobile in a different way. Th You will grow into your new role step by step, keeping in mind the testing processes which will shape your future daily way of working. Therefore, the learning process is structured in five phases – which we call "bubbles" – that build on each other (see illustration below).

The bubbles structure of this training will allow is is where you discover more defects, learn to report defects, write a test case or acquire knowledge on how to write a test case based on the requirements of the app.
The third bubble is about learning to test as a team (Bubble "Team"), specifically, you will learn what is needed to collaborate with others in testing and developing software environment.
The fourth bubble is about how we test at the enterprise level (Bubble "My Company").
The fifth and last bubble is where you will be able to put into practice everything you learned in your learning path as a tester in order to deepen your practical skills (Bubble "My First Project") with a sample project that we have prepared for you.
As you can see in the graphic below, we have packed a small "present" for you in each bubble. This means that, in each bubble you will find units related to the different testing phases. The idea is that in each bubble you can learn a little bit about every phase of the testing process, and as you will be advancing with the bubbles, you will be deepening your knowledge on these phases.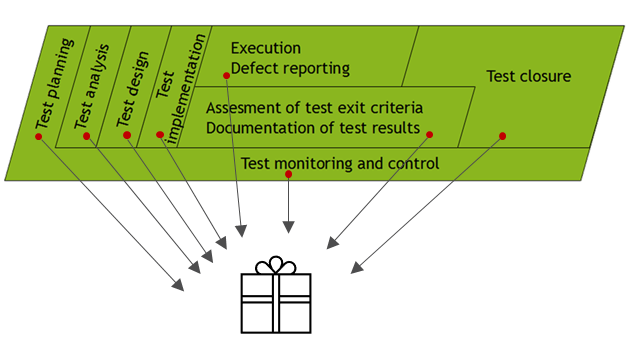 We have planned your training as a growth process so you can learn about the testing process based on training pills which we "packed" with relevant materials accordingly for every one of the five learning phases. Each of them contains a variety of materials and exercises, allowing you playfully take your first steps into testing.
Each bubble is divided into units. In each unit, you will find different elements:
Topics: General vision about the lesson.
Goals: It describes the learning objectives for each lesson.
Outcomes: Your knowledge and the practical experience acquired during the lesson.
Materials: Different materials that you will need to study to complete the lesson. You will find articles, videos, …
Additional material: List of additional resources that we recommend you study in order to develop a more complete vision on concrete topics that are relevant for testers.
Quiz per lesson: The list of exercises in which you will be able put into practice the knowledge you learn within the lesson.
Quiz finals: You will have a quiz composed of several questions to carry out self-assessment of your knowledge. The positive results of these quizzes are required to obtain the final certification.
During the course, try to capture as many terms and knowledge as possible to apply them in your daily life as a future QA tester. Save the materials and read them as many times as you think is necessary to master their content. The exercises are recommendable to carry out at your best possible so to be able to practice your knowledge fully.
---
Agile coach
As a student, you have the option of contacting the agile learning coach, who will answer your questions and guide you in the best way to search for information and/or plan your study sessions to get the most out of the course.
Read more about the role of agile coach in our blog posts here:
To contact the coach, use the contact us button.
---
Learning community
Internal forum
We have an internal forum to share doubts, help other students or debate some point in the course content. To access the internal community, click here.
Other communities
---
FAQ
---
---
---
Bubble 1: (ME)
Bubble 2: My environment
Bubble 3: My team
Bubble 4: My company
Bubble 5: My first project